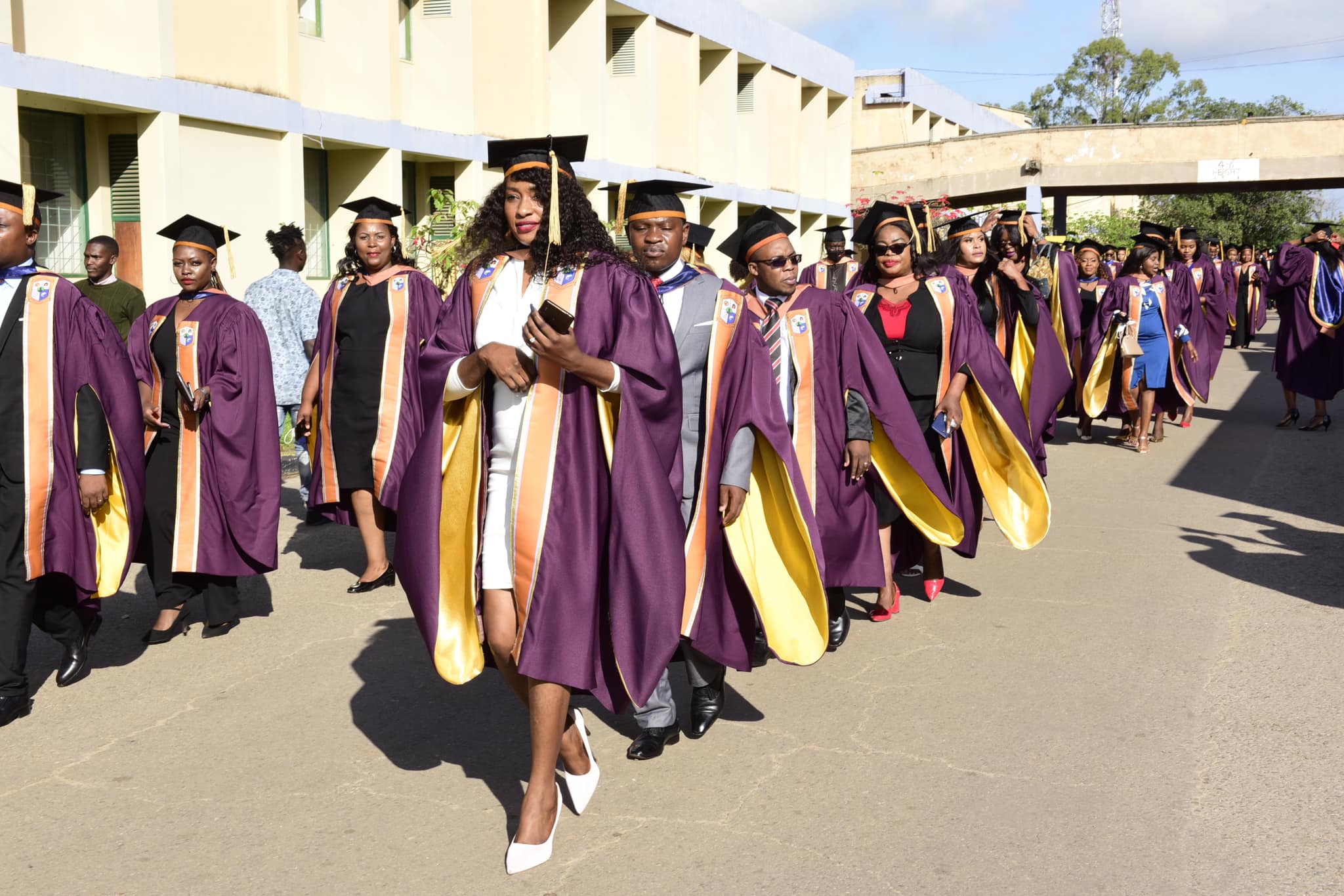 THE COPPERBELT UNIVERSITY
OFFICE OF THE VICE-CHANCELLOR
ADDRESS BY
 THE ACTING VICE- CHANCELLOR PROFESSOR PAUL CHISALE
ON THE OCCASION OF THE SECOND SESSION OF THE 30TH GRADUATION CEREMONY OF THE COPPERBELT UNIVERSITY AT RIVERSIDE CAMPUS
Friday, 22ND APRIL 2022
THEME:  "SUSTAINABLE DEVELOPMENT THROUGH INNOVATION"
SALUTATIONS
THE GUEST OF HONOUR, MINISTER OF EDUCATION, HONOURABLE DOUGLAS SIAKALIMA, MP
THE COPPERBELT PROVINCE - PROVINCIAL MINISTER, HONOURABLE ELISHA MATAMBO, MP
THE MEMBER OF PARLIAMENT FOR KWACHA CONSTITUENCY, HONOURABLE JOE MALANJI, MP
COPPERBELT PROVINCE PERMANENT SECRETARY, MR AUGUSTINE KASONGO
DISTRICT COMMISSIONERS PRESENT
ALL MAYORS PRESENT
ALL TOWN CLERKS PRESENT
VICE – CHANCELLORS FROM OTHER UNIVERSITIES PRESENT,
THE REGISTRAR, COPPERBELT UNIVERSITY, MRS. HELEN MWENYA MUKUMBA;
PRINCIPAL OFFICERS OF THE COPPERBELT UNIVERSITY
DEANS, DIRECTORS AND HEADS OF UNITS OF THE COPPERBELT UNIVERSITY PRESENT
ESTEEMED SPONSORS
MEMBERS OF THE PRESS
ALL GRADUANDS
LADIES AND GENTLEMEN
IT GIVES ME GREAT PLEASURE AS ACTING VICE CHANCELLOR TO WELCOME YOU TO THIS SECOND SESSION OF THE 30TH GRADUATION CEREMONY OF THE COPPERBELT UNIVERSITY.
GUEST OF HONOUR SIR, TODAY THE COPPERBELT UNIVERSITY IS PRESENTING TWO THOUSAND, TWO HUNDRED AND FORTY-ONE (2, 241) GRADUANDS FOR THE AWARD OF VAROUS DEGREES – WHICH IS A 10.5% INCREASE COMPARED TO THE 29TH GRADUATION CEREMONY.
THE BREAKDOWN OF GRADUANDS IS AS FOLLOWS:
SCHOOL OF BUSINESS -466
SCHOOL OF BUILT ENVIRONMENT  -93
SCHOOL OF ENGINEERING -277
SCHOOL OF GRADUATE STUDIES -181
SCHOOL OF HUMANITIES AND SOCIAL SCIENCES - 57
SCHOOL OFINFORMATION & COMMUNICATIONS TECHNOLOGY -91
SCHOOL OF MATHEMATICS AND NATURAL SCIENCES -514
SCHOOL OF MINES AND MINERAL SCIENCES -159
SCHOOL OF NATURAL RESOURCES -117
SCHOOL OF MEDICINE -31
DDEOL -129
KAPASA MAKASA UNIVERSITY -116
KKMU – AFFILATE UNIVERSITY -10
GUEST OF HONOUR SIR, THIS 30TH GRADUATION CEREMONY IS BEING CELEBRATED UNDER THE THEME "SUSTAINABLE DEVELOPMENT THROUGH INNOVATION". INNOVATION HAS INDEED BECOME A BUZZWORD ACROSS THE GLOBE. INTERNATIONAL ORGANIZATIONS, GOVERNMENTS, CORPORATES, ACADEMIA AND INDEED CIVIL SOCIETY SEE IT AS THE ANSWER TO MAJOR CONTEMPORARY CHALLENGES.
GUEST OF HONOUR SIR, I AM AWARE THAT THE 2030 AGENDA FOR SUSTAINABLE DEVELOPMENT SETS A BROAD AND AMBITIOUS AGENDA PREMISED ON INNOVATION IN AS THE country develops TO ACHIEVE THE GOALS in agenda 2030, NEW MODALITIES FOR DEVELOPMENT ARE REQUIRED, INCLUDING BRINGING INNOVATIONS INTO THE FOREGROUND IN ALL DEVELOPMENT ACTIVITIES.
 GUEST OF HONOUR SIR, COPPERBELT UNIVERSITY HAS EMBRACED INNOVATION AND INDUSTRIALIZATION AS PART OF ITS CORE MANDATE IN LINE WITH THE NEW PARADIGM OF EDUCATION FIVE POINT ZERO. THE UNIVERSITY HAS NOT ONLY EMBRACED THIS SHIFT BUT HAS ENSHRISHED IT AS ITS MISSION WHICH STATES "TO BE A PREMIER INSTITUTION IN TEACHING, RESEARCH, AND INNOVATION FOR NATIONAL DEVELOPMENT".
GUEST OF HONOUR, FOR US AS COPPERBELT UNIVERSITY, INNOVATION IS OUR FORCUS IN PROMOTING INCLUSIVE AND SUSTAINABLE INDUSTRIALIZATION. THE KEY QUESTIONS IS NOT HOW TO ENCOURAGE MORE INNOVATIONS IN THE UNIVERSITY, BUT WHICH KINDS OF INNOVATIONS NEED TO BE ENCOURAGED TO ACHIEVE SUSTAINABLE DEVELOPMENT. THE COPPERBELT UNIVERSITY BELIEVE IT IS TIME TO RESPOND TO LOCAL PROBLEMS BY UTILIZING LOCAL SOLUTIONS. AND THUS THE UNIVERSITY PLACES EMPHASIS ON PROMOTION OF INNOVATION AIMED AT SOLVING COMPLEX SOCIETAL CHALLENGES. 'THIS IS AT THE CORE OF THE UNIVERSITY'S RELEVENACE IN NATIONAL DEVELOPMENT'.
GUEST OF HONOUR, I AM AWARE OF THE MANY INNOVATIONS AND INVENTIONS THAT THE CBU HAS DONE. AMONG THE MANY ARE:
THE DEVELOPMENT OF THE TAX-ONLINE SYSTEM, A CUSTOMS MANAGEMENT SYSTEM AND INSTALLATION OF A VEHICLE TRACKING MANAGEMENT SYSTEMS DONE IN PARTNERSHIP WITH THE ZAMBIA REVENUE AUTHORITY. THE SYSTEMS ARE TO PROVIDE FOR EFFICIENT, RELIABLE AND SIMPLIFIED BUSINESS SYSTEMS IN ORDER TO ENHANCE TAX COMPLIANCE, AND ARE THUS A HUGE MILESTONE IN PROVIDING HOMEGROWN TAX ADMINISTRATION SYSTEMS.
DEVELOPMENT OF THE FIRST EVER AUTOMATED WALK-IN SANITIZING SYSTEM (AWISS), A SOLAR POWERED AUTOMATED HAND WASH STATION, HAND SANITIZERS AND LIQUID SOAP SOLUTIONS WHICH ARE RESPONSES TO MITIGATE THE SPREAD OF THE COVID-19.
DEVELOPMENT OF A VIDEO CONFERENCING SYSTEM WHICH IS BEING PILOTED FOR CONDUCTING ONLINE INTERACTIONS, MEETINGS AND LEARNING. THE SYSTEM IS MEANT TO IMPROVE ACCESS TO HIGHER EDUCATION THROUGH ONLINE LEARNING.
TISSUE CULTURING OF VARIOUS INDEGINOUS PLANTS AND TREES INCLUDING THE MUKULA TREE, EUCALYPTUS TREE, MUMBU PLANTS, BUSALA PLANTS AND BANANAS MEANT TO COMMERCIALISE THESE PLANTS AS WELL AS PREVENT THEIR EXTINCTION.
CBU HAS ALSO DEVELOPED SIMPLIFIED HYDRAULIC BRICK MAKING MACHINES AND MAIZE SHELLING MACHINES THAT USE SIMPLE TECHNOLOGIES AND CAN BE USED IN OUR RURAL COMMUNITIES.
GUEST OF HONOUR SIR, WE BELIEVE THAT THE POTENTIAL FOR ZAMBIA TO BENEFIT IN TERMS OF SUSTAINABLE DEVELOPMENT IS LIKELY TO BE GREATER WHEN THERE IS EFFECTIVE UTILIZATION OF THESE INNOVATIONS AT VARIOUS LEVELS AND A POSITIVE ENABLING ENVIRONMENT THAT BRINGS TOGETHER PHYSICAL CAPITAL AS WELL AS HUMAN CAPITAL DEVELOPMENTS, INVESTMENT IN R&D, POLICY AND REGULATORY ENVIRONMENT, AMONG OTHERS. HOWEVER TODAY, GUEST OF HONOUR, WE BEMOAN THE LOW UPTAKE OF SCIENCE AND INDUSTRIAL RESEARCH AND INNOVATIONS OUTPUTS FROM THE UNIVERSITIES BY INDUSTRY. WE EARNSTLY CALL UPON THE GOVERNMENT AND THE PRIVATE SECTOR TO PARTNER WITH US TO PRODUCE IMPLEMENTABLE INNOVATIONS AND SOLUTIONS THAT WILL ENABLE THE NATION ACHIEVE SUSTAINABLE DEVELOPMENT.
REMARKS TO GRADUANDS
TO OUR GRADUANDS, MANY OF YOU THAT ARE GRADUATING WITH BACHELORS AND POSTGRADUATE DEGREES YOU WILL HAVE AN ACUTE SENSE OF YOUR UNIVERSITY BEING AT THE FOREFRONT OF HUMAN DEVELOPMENT, THE FOREFRONT OF RESEARCH, THE FOREFRONT OF INNOVATION AND A UNIVERSITY THAT TRANSLATES KNOWLEDGE OF THE AGES AND THE FRESH DISCOVERIES, INTO PROGRAMMES WHICH ARE VIBRANT, WHICH ARE RELEVANT, WHICH ARE EXCITING AND WHICH HAVE MADE YOU THE PEOPLE THAT YOU ARE TODAY.
WHAT OF WHAT HAPPENS NEXT?
OF COURSE YOU ARE GRADUATING INTO A WORLD OF CHALLENGES
OF COURSE YOU ARE GRADUATING INTO A WORLD OF CHANGE
OF COURSE YOU ARE GRADUATING AT A MOMENT WHEN THE COUNTRY IS AT CROSSROADS DUE TO THE COVID 19 PANDEMIC  
BUT IN THESE CHALLENGING AND IN THESE UNCERTAIN TIMES, YOU NEED TO HOLD FAST AND BE CERTAIN THAT YOU ARE THE KIND OF PERSONS THAT WILL MAKE A DIFFERENCE
YOU ARE THE KIND OF PERSONS THAT INDUSTRY AND THE NATION NEED TODAY, AND YOU ARE THE KIND OF PERSON WHICH WILL PUSH FOR NEW FRONTIERS OF KNOWLEDGE, NEW METHODS, IDEAS AND PROUCTS TO BUILD A BETTER AND RESILIENT FUTURE.
SO WHATEVER THAT NEXT CHAPTER OF YOUR LIFE TAKES YOU TO, BE ASSURED THAT THE CONFIDENCE THAT BROUGHT YOU TO THE COPPERBELT UNIVERSITY IN THE FIRST PLACE, IS NOT AND WAS NOT, MISPLACED. IT'S A CONFIDENCE IN YOUR PAST ACHIEVEMENT, ITS YOUR CONFIDENCE IN THE CBU DEGREE, BUT IT'S A CONFIDENCE IN YOURSELF AND IT'S A CONFIDENCE IN YOUR FUTURE
SO, THE THAT NEXT CHAPTER OF YOUR LIVES, IT MIGHT HAVE SOME UNCERTANITY, IT MIGHT TAKE YOU INTO NEW AND CHALLENGING TERRITORIES, BUT AS IT DOES, YOU CAN BE SURE THAT YOU WILL MEET THOSE CHALLENGES THAT WILL BUILD ON YOUR ACHIEVEMENTS THUS FAR AND THAT WILL BE A KEY AND A CRUCIAL PART OF BUILDING THAT BETTER FUTURE FOR US ALL
SO AS YOU MOVE ON FROM CBU, REMEMBER ALL THAT YOU HAVE GIVEN TO THIS UNIVERSITY, REMEMBER ALL THAT YOU HAVE GAINED FROM THIS UNIVERSITY, CONTINUE TO BE PART OF THE GREAT FAMILY, THAT GREAT FAMILY OF OVER 30,000 ALUMNI GRADUATES OF THIS GREAT UNIVERSITY. REMEMBER TOO THAT WE WILL CONTINUE TO TAKE PRIDE IN YOUR FUTURE ACHIEVEMENTS AS WE TAKE GREAT PRIDE IN YOUR ACHIEVEMENT THIS FAR.
LET ME ALSO TAKE THIS OPPORTUNITY TO THANK OUR SPONSORS AND PARTNERS THAT HAVE SUPPORTED US IN VARIOUS WAYS – IN THE PRODUCTION OF MATERIALS, FINANCIAL, SPONSORSHIP OF AWARDS AND HUMAN RESOURCES - WITHOUT WHOM THE ACHEIVEMENTS OF TODAY WOULD HAVE BEEN DIFFICULT.
CONGRATULATIONS TO OUR GRADUANDS
THANK YOU TO OUR PARTNERS AND SPONSORS
AND MAY GOD BLESS YOU ALL
I THANK YOU!