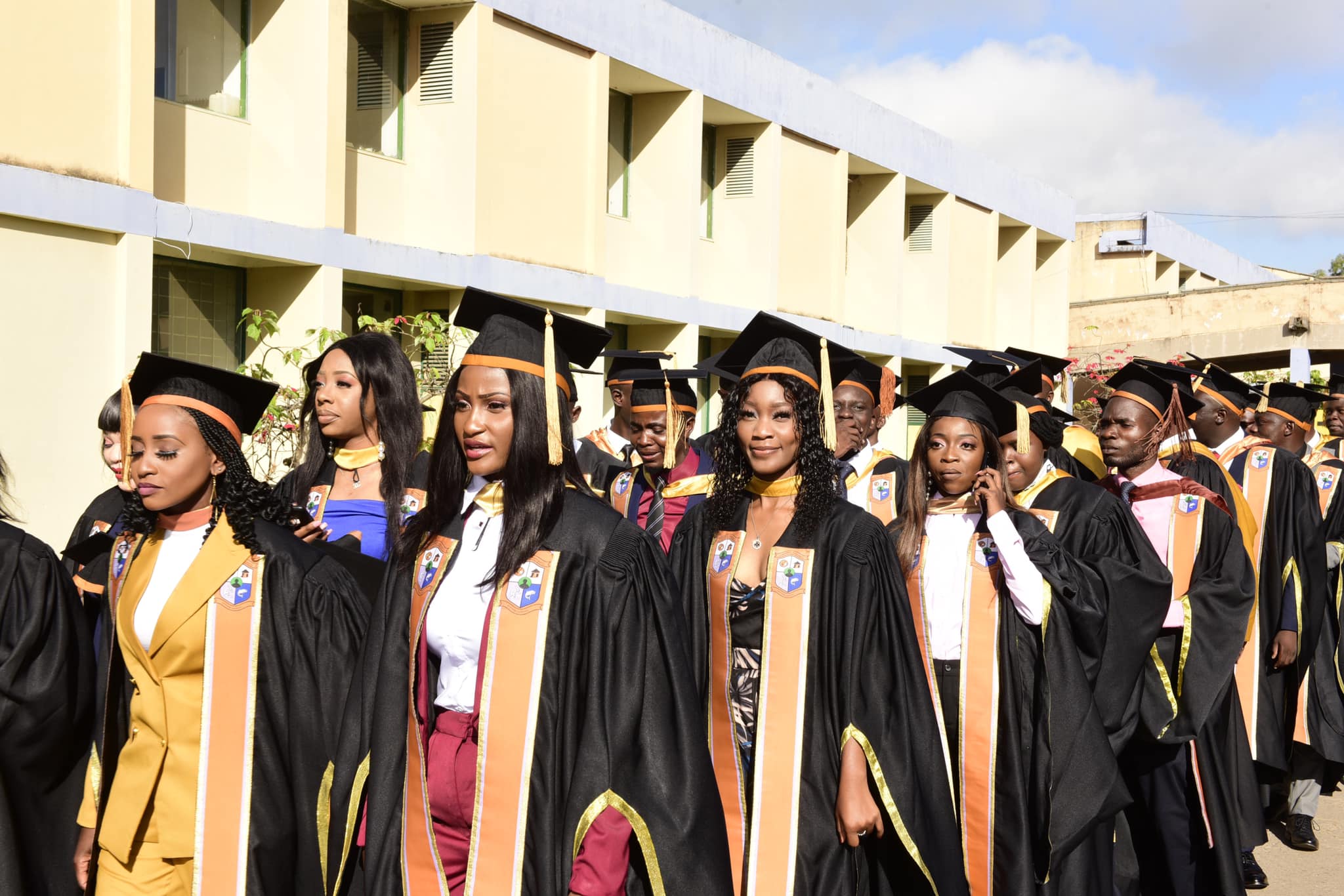 THE REPUBLIC OF ZAMBIA
 ADDRESS BY
 THE GUEST OF HONOUR – HON. DOUGLOUS M. SYAKALIMA, MP, MINISTER OF EDUCATION
 ON THE OCCASION OF THE SECOND SESSION OF THE 30TH GRADUATION CEREMONY OF THE COPPERBELT UNIVERSITY
THEME:
SUSTAINABLE DEVELOPMENT THROUGH INNOVATION
   FRIDAY, 22ND APRIL 2022
THE COPPERBELT PROVINCE - PROVINCIAL MINISTER, HONOURABLE ELISHA MATAMBO, MP
COPPERBELT PROVINCE PERMANENT SECRETARY, MR AUGUSTINE KASONGO
ACTING DIRECTOR – UNIVERISITY EDUCATION
ALL MAYORS AND TOWN CLERKS PRESENT
SENIOR GOVERNMENT OFFICIALS
THE CHANCELLOR OF THE COPPERBELT UNIVERSITY, PROFESSOR MUYUNDA MWANALUSHI;
ACTING VICE CHANCELLOR OF THE COPPERBELT UNIVERSITY, PROFESSOR PAUL CHISALE
VICE – CHANCELLORS FROM OTHER UNIVERSITIES;
THE REGISTRAR, COPPERBELT UNIVERSITY,
PRINCIPAL OFFICERS OF THE COPPERBELT UNIVERSITY
DEANS, DIRECTORS AND HEADS OF UNITS OF THE COPPERBELT UNIVERSITY PRESENT;
ESTEEMED SPONSORS;
MEMBERS OF THE PRESS;
ALL GRADUANDS;
DISTINGUISHED, LADIES AND GENTLEMEN
I AM DELIGHTED TO BE HERE WITH YOU AT THIS SECOND SESSION OF THE 30TH GRADUATION CEREMONY OF THE COPPERBELT UNIVERSITY. A FEW MONTHS AGO, I WITNESSED THE FIRST SESSION OF THIS 30TH GRADUATION CEREMONY AT THE MPIKA CAMPUS WHERE THE FIRST COHORT OF RAILWAY ENGINEERS UNDER THIS UNIVERSITY GRADUATED. LET ME, THEREFORE, BEGIN WITH CONGRATULATING THE UNIVERSITY MANAGEMENT AND STAFF FOR WORKING TOWARDS SUPPLYING APPROPRIATELY QUALIFIED GRADUATES AND CONTRIBUTING TO THE COUNTRY'S POOL OF HUMAN CAPITAL DEVELOPMENT.
WARM CONGRATULATIONS TO THE GRADUANDS WHO HAVE GATHERED HERE TODAY TO RECEIVE THEIR HARD-EARNED DIPLOMAS AND DEGREES IN SEVERAL DISCIPLINES. THE INDIVIDUAL ACCADEMIC JOURNEYS WHICH BEGAN SOME YEARS AGO, FOR MOST UNDERGRADUATES, IS FINALLY COMING TO A SUCCESSFUL END WHILE THE NEXT EXCITING WORKING LIFE BEGINS. FOR GRADUATE STUDENTS, YOU HAVE INVESTED A SIGINIFICANT PART OF YOUR LIVES TO THE PURSUIT OF KNOWLEDGE AND EXCELLENCE. THEREFORE, YOUR
GRADUATION TODAY IS NO SMALL ACHIEVEMENT AND DESERVES COMMENDATION. YOU HAVE ALL DEMONSTRATED A STRONG WILL, FOCUS AND DISCIPLINE THROUGHOUT YOUR TIME AT THE UNIVERSITY.   YOU HAVE PROVED THAT YOU HAVE WHAT IT TAKES TO MAKE IT IN WHATEVER CAREER PATHS YOU TAKE AS YOU LEAVE THIS UNIVERSITY.
DISTINGUISHED, LADIES AND GENTLEMEN
WE ARE IN THE PROCESS OF RECONSTRUCTING THE ECONOMY. AS SUCH, WE NEED TO MOBILISE ALL THE SKILLS, TALENTS AND IDEAS FROM THE CITIZENRY ACROSS THE COUNTRY FOR US TO HARNESS THE INGINUITY OF EVERYONE IN FINDING SOLUTIONS THAT WILL NOT ONLY HELP US TRANSFORM THE ECONOMY, BUT PUT US ON A SUSTAINABLE PATH IN ORDER TO ACHIEVE OUR VISION 2030 TARGETS. TO ACHIEVE THAT, GRADUATES LIKE YOURSELVES, WHO ARE ARMED WITH FRESH AND NEW KNOWLEDGE WILL BE KEY AND I MAKE THIS CLARION CALL TO YOU ALL TO BE OF SERVICE TO YOUR COUNTRY THAT HAS GIVEN YOU SO MUCH UP TO THIS POINT.
DISTINGUISHED, LADIES AND GENTLEMEN,
THE THEME OF THIS GRADUATION CEREMONY SAYS "SUSTAINABLE DEVELOPMENT THROUGH INNOVATION".
SUSTAINABLE DEVELOPMENT HAS BEEN A MUCH TALKED ABOUT PHRASE. WE CANNOT BE FATIGUED BY THIS CONCEPT BECAUSE AS IT WAS DEFINED IN THE BRUNDTLAND COMMISSION REPORT, IT IS A STEWARDSHIP CALL TO HUMANITY: THAT OUR PRESENT ACTIONS WILL, IN MORE WAYS THAN ONE, IMPACT ON THE UP COMING GENERATIONS. AS A RESULT, SUSTAINABLE DEVELOPMENT DEMANDS THAT WHILE DEVELOPMENT IS GOOD AND MUCH SOUGHT AFTER FOR THE BETTERMENT OF THE CURRENT QUALITY OF LIFE, WE HAVE A DUTY TO ENSURE THAT SUCH DEVELOPMENT DOES NOT INJURE THE PROSPECTS OF FUTURE GENERATIONS TO ATTAIN THEIR HIGHEST GOD-GIVEN POTENTIAL IN THEIR TIME.
THE THEME OF THIS GRADUATION CEREMONY ALSO LINKS WHAT I HAVE JUST DESCRIBED AS THE HALLMARKS OF SUSTAINABLE DEVELOPMENT, TO INNOVATION. INNOVATION AS THE MEANS FOR FINDING SOLUTIONS TO THE MANY CHALLENGES CONFRONTING HUMANITY. WHEN WE HAVE EMBRACED INNOVATION, SUSTAINABLE DEVELOPMENT WILL BE AN ACHIEVABLE GOAL RATHER THAN A PIPEDREAM. I MUST MAKE HASTE TO STATE THAT NOT EVERY INNOVATION CAN LEAD TO SUSTAINABLE DEVELOPMENT. IN FACT, SOME INNOVATIONS MAY EVEN EXACERBATE THE REVERSALS IN SUSTAINABLE DEVELOPMENT WHICH WE HAVE MADE AS SOCIETY. I MUST THEREFORE ADD HERE, THAT AS WE STRIVE FOR SUSTAINABLE DEVELOPMENT, WE SHOULD FIND SOLUTIONS THOUGH INNOVATIONS THAT ARE THEMSELVES SUSTAINABLE.
DISTINGUISHED, LADIES AND GENTLEMEN
THIS APPARENT TENSION BETWEEN THE QUEST FOR SUSTAINABLE DEVELOPMENT ON THE ONE SIDE, AND INNOVATION ON THE OTHER, IS BEST HARMONIZED THROUGH QUALIFIED HUMAN CAPITAL. THAT IS WHY TODAY AS WE CELEBRATE THIS GRADUATING GROUP OF 2021, WE MUST RESTATE THAT INDIVIDUALLY, YOU HAVE BEEN THOROUGHLY EQUIPPED TO MAKE YOUR MARK. REPOSITION YOURSELVES TO TAKE ADVANTAGE OF THE CONDUCIVE ENVIRONMENT WHICH GOVERNMENT IS CREATING FOR THE ENTREPRENEURSHIP AND THE PROMOTION OF A CREATIVE MIND FOR INNOVATIONS. YOU, THE YOUNG PEOPLE, ARE NOT JUST THE FUTURE OF OUR COUNTRY, THE PRESENT ALSO BELONGS TO YOU, IF YOU WILL CLAIM YOUR RIGHTFUL SPACE. CLAIM IT THROUGH IDEAS AND INNOVATIONS. MANY PEOPLE WHO HAVE MADE SIGNIFICANT INNOVATIONS IN OUR LIVES TODAY HAVE BEEN YOUNG PEOPLE. YOU TOO CAN DO IT.
DISTINGUISHED, LADIES AND GENTLEMEN
LET ME TAKE THIS OPPORTUNITY TO REMIND ALL OF US THAT PROVIDING QUALITY HIGHER EDUCATION IS NOT JUST A PRESERVE OF GOVERNMENT, BUT A COLLECTIVE RESPONSIBILITY FOR BOTH POLICY MAKERS LIKE MYSELF, MANAGEMENT OF INSTITUTIONS OF HIGHER LEARNING AND LEACTURERS WHO TAKE UP THE NOBBLE RESPONSIBILITY TO TEACH. THEREFORE, WHEN WE ARE FACED WITH CHALLENGES THAT REQUIRE CONCERTED EFFORTS TO FIND SOLUTIONS, LET US AVOID A CONFRONTATIONAL APPROACH, RATHER, LET US EMBRACE THE SIPIRIT OF GENUINE AND HONEST ENGAGEMENT BASED ON UNDERSTANDING CURRENT CONDITIONS AND AVAILABLE RESOURCES.
ON THE PART OF GOVERNMENT, OUR DESIRE IS TO PROVIDE THE BEST ENVIRONMENT WHICH INCLUDES GIVING UNIVERSTIES ALL THE NECESSARY INFRASTRUCTURE, TOOLS AND RESOURCES REQUIRED TO PROVIDE QUALITY EDUCATION TO THE LEARNERS. EQUALLY, MEMBERS OF STAFF IN THESE INSTITUTIONS AT ALL LEVELS AND STUDENTS ALIKE SHOULD CARRY THE SAME ZEAL OF RESPONSIBILITY IN WORKING TOGETHER TO FIND LASTING SOLUTIONS TO OUR CHALLENGES.
IN THIS REGARD, I WISH TO ASSURE ALL THE PUBLIC UNIVERSITIES IN THIS COUNTRY THAT YOUR GOVERNMENT IS FULLY COMMITTED TO ADDRESSING THE CHALLENGES YOU HAVE IN YOUR RESPECTIVE UNIVERSITIES RELATED TO INFRASTRUCTURE, FINANCING AND CONDITIONS OF SERVICE. HOWEVER, FOR US TO MAKE PROGRESS ON ALL THESE, I REQUEST YOU ALL TO REMEMBER THAT WE HAVE A DUTY TO ENGAGE IN CONSTRUCTIVE AND GENUINE CONSULTATIONS WITH EACH OTHER SO THAT WE IMPLEMENT STRATEGIES THAT WILL NOT ONLY RESOLVE THE MANY CHALLENGES WE HAVE, BUT LAY A STRONG FOUNDATION FOR SUSTIANABLY RUNNING OUR UNIVERSITIES GOING INTO THE FUTURE.
 DISTINGUISHED, LADIES AND GENTLEMEN
ALLOW ME TO USE THIS GRADUATION CEREMONY TO CHALLENGE NOT JUST THE GRADUATES OF TODAY, BUT THE PROFFESSORS, DOCTORS, RESEARCHERS AND ALL ACCADEMIC STAFF IN ALL OF OUR UNIVERSITIES TO POSITION THEMSELVES TO DRIVE THE RESEARCH AGENDA IN THIS COUNTRY THAT WILL USE EVIDENCE IN POLICY FORMULATION. AS YOU ALL KNOW, WE, THE CITIZENS ARE THE DIRECT BENEFICIARIES OF OUTPUTS OF GOVERNMENT POLICIES, THEREFORE, WE NEED EVIDENCE GENERATED BY RESEARCHERS IN OUR UNIVERSITIES WORKING CLOSELY WITH THE OTHER ECONOMIC ACTORS SUCH AS THE PRIVATE SECTOR. THEREFORE, MY MINISTRY IS DISCUSSING IDEAS OF LAUNCHING AN ANNUAL NATIONAL RESEARCH AND INNOVATION SYMPOSIUM THAT WILL SERVE AS A PLATFORM FOR RESEARCHERS, THINKTANKS, SECTOR SPECIFIC BODIES TO PRESENT AND DISCUSS VARIOUS ISSUES THAT AFFECT ALL SECTORS OF OUR ECONOMY IN ORDER FOR US TO TAKE THAT COLLECTIVE RESPONSIBILITY IN FINDING SOLUTIONS THAT WILL TAKE OUR COUNTRY TO THE NEXT LEVEL. I THEREFORE CHALLENGE ALL OUR UNIVERSITIES TO BE FULLY ENGAGED AND TAKE THE LEAD IN SETTING THE RESEARCH AGENDA FOR THE COUNTRY.
IN CONCLUSION DEAR GRADUANDS, I WISH TO LEAVE YOU WITH DENIS WAITLEY'S THOUGHT FOR YOU TO REFLECT ON AS YOU CELEBRATE THIS MOMENTOUS ACHIEVEMENT OF GRADUATING:
LIFE IS INHERENTLY RISKY. THERE IS ONLY ONE BIG RISK YOU SHOULD AVOID AT ALL COSTS, AND THAT IS THE RISK OF DOING NOTHING.
GO OUT THERE AND DO SOMETHING
I THANK YOU AND MAY GOD OPEN UNLIMITED DOORS FOR YOUR FUTURES!